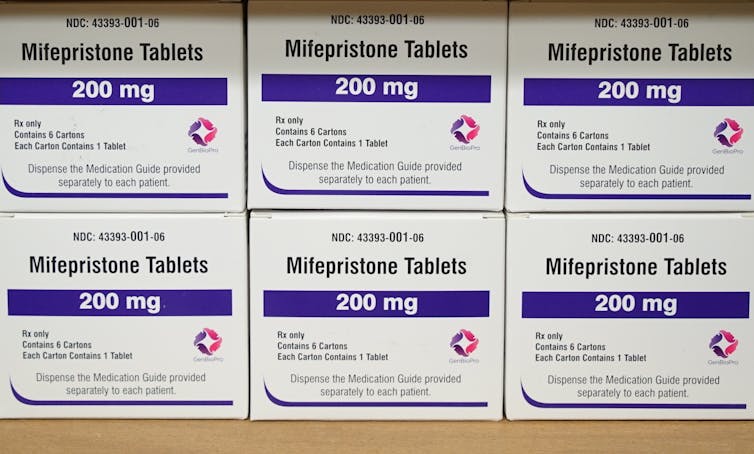 A flurry of court rulings in April 2023 has left the future of the abortion pill mifepristone in question. For now, a U.S. Supreme Court decision on April 21 allows the drug to remain accessible without additional restrictions as the merits of the case are weighed in lower court proceedings.
Depending on the outcome, the pill could face a ban or tightened restrictions on its usage, a possibility that has many health care providers concerned.
The Conversation asked Grace Shih, a family physician practicing in Washington state, to explain the science behind mifepristone as well as its safety and efficacy in medication abortions.
What is mifepristone, and how does it work?
Mifepristone is a pill that is used in medication abortion during early pregnancy. It was initially approved by the Food and Drug Administration in 2000 and is approved by the FDA for medication abortion up to 10 weeks after the first day of the last menstrual period.
It can be taken as one part of a two-part pill regimen for medication abortion. Mifepristone is prescribed as a 200-milligram dose taken orally, followed by an 800-microgram dose of misoprostol, which is placed in the vagina or between the teeth and cheek, where it dissolves and is absorbed, usually 24 to 48 hours later.
Mifepristone acts by blocking the hormone progesterone, which is necessary for a pregnancy to develop. This stops the pregnancy growth and softens and dilates the cervix. It also prepares the uterus for contractions, increasing its sensitivity to medications such as misoprostol.
Mifepristone blocks the action of progesterone, a hormone that is needed for a pregnancy to develop.
Misoprostol is a synthetic prostaglandin. Prostaglandin is a hormonelike substance that has multiple effects, including the stimulation of uterine contractions, which helps expel pregnancy tissue such as the thickened uterine lining and the tissues that are the precursor to the placenta.
Misoprostol is currently FDA-approved for reducing the risk of gastric ulcers in patients who are at high risk of complications from ulcers. But it is commonly used off-label for things like cervical ripening, or softening, to induce or help with labor. Mifepristone and misoprostol are also both used in the medical management of miscarriage.
Medication abortion can also be done with misoprostol alone, an approach known as the misoprostol-only regimen. This regimen is safe and has been used widely by people around the world. In the misoprostol-only regimen, an 800-microgram dose is placed in the vagina or between the teeth and cheek every three hours for up to three doses.
Both protocols are very effective, with the two-drug regimen up to 99.6% effective and the misoprostol-alone regimen between 84% to 96% in medication abortions.
Why would a person opt for one regimen or the other?
People usually don't choose the type of medication abortion they receive. Because the availability of mifepristone and misoprostol is highly variable, whichever method is available to you is medically safe. Patients should feel assured that guidelines for medication abortion support the safety and efficacy of both medication regimens.
The American College of Obstetricians and Gynecologists, the Society for Family Planning and the World Health Organization all support both types of medication abortion.
How widely accessible is mifepristone?
In January 2023, the FDA updated its guidelines to allow mifepristone to be dispensed through pharmacies with a prescription.
The change means that the drug is available both by mail or at brick-and-mortar pharmacies, as long as that retail pharmacy has been certified. In other words, people who live in states where abortion is not banned can take their mifepristone prescription and get it the way they pick up other medications.
For someone able to pick up mifepristone from a local pharmacy, the process is no different from picking up birth control pills or blood pressure medications. This allows mifepristone and its applications for abortion care and miscarriage management to be treated as typical health care.
While the January 2023 FDA ruling theoretically increases the ways that a person can get mifepristone, so far it has not been widely available at retail pharmacies.
Can I still get mifepristone?
The short answer is yes, mifepristone is still FDA-approved. The Supreme Court's April 21, 2023, ruling means that there will be no changes to mifepristone access for now. However, for use in abortion care, mifepristone still faces restrictions depending on your state's legislation.
As of April 2023, 27 states have some restriction on medication abortion according to the Guttmacher Institute, a reproductive health policy organization. This includes 12 states that have a near-total ban on abortion and one state that has stopped offering abortion care because of legal uncertainty.
Of the 15 states with restrictions specific to medication abortion, all of them require that medication be provided by a physician and not an advanced practitioner like a nurse practitioner. Six of the states require an in-person visit with a physician, one state requires that mifepristone be taken in the presence of a physician, and one state bans mailing medication abortion pills.
Evidence-based health care
As a practicing family physician, I follow the science and make medical decisions with my patients using the most up-to-date evidence. Medication abortion using mifepristone and misoprostol is exceptionally safe and highly effective, as is medication abortion using misoprostol alone. Side effects of the misoprostol-only regimen are similar to the combined regimen, though they may last longer because of the need for multiple doses of misoprostol.

Some news coverage has focused on comparing the efficacy of the two regimens. But percentage points mean very little to an individual's health – what matters is that people get the care they need.

I will continue working, providing and advancing care that is based on science. Leading health professional organizations including the American College of Obstetricians and Gynecologists, the American Medical Association and the American Academy of Family Physicians have all issued statements that call for removing all restrictions around mifepristone and/or support the safety of misoprostol-only medication abortion.

This article is republished from The Conversation under a Creative Commons license. Read the original article.

Posted in: