author of SharePoint without Coding, Volumes 1 and 2
The following is a compilation of interviews and results from a survey (Weldon, 2010).
INTRODUCTION
In the past, our IT department was outsourced. When changes would be made to the server, the changes would not match with the Windows Server operating system configuration for our onsite catalog. The IT department would start the server and our onsite catalog would not be able to communicate with the rest of the system. It became apparent that the firm needed an onsite IT department to meet the LAN and WAN requirements of all of the departments, which included the library.
NEED
Our law library needed to promote current awareness to the clients, attorneys, and paralegals about IRS application/approval documents and litigation holds.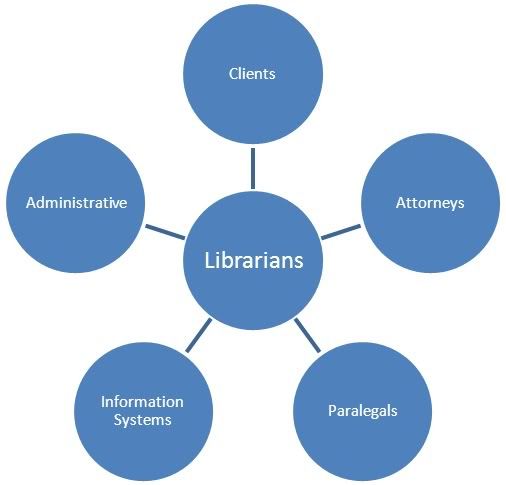 We also kept losing files on our servers because there was an absence in a solid organizational structure. Through MS SharePoint, a web page would be updated with announcements about the collection, links would be made to outside resources, and our onsite catalog. Through a library web page, our librarians and assistants would know what to do next in their positions through our internal policy manual and reference wikis. The scheduling of reference desk duties and projects would be managed through the SharePoint web-based calendar and a SharePoint project management site. Electronic documents would be managed and accessed through permission rules.
The web page would allow KM and Best Practices databases to be updated and maintained through default forms that could be adjusted through the spreadsheet mode or SharePoint Designer. We have found SharePoint to be a great help to ask staff what items that they needed added to the library collection through the default surveys. Unfortunately, the library's information, as the other departments' information, exist and function as separate silos from within the firm's server.
USAGE REQUIREMENTS
The law firm uses MS SharePoint MOSS 2007 to manage the firm's intranet. Our office uses SharePoint as an intranet site for all sections of the office. It hosts general office forms, reports, calendars, etc. The features and functionality are out of the box. It uses SharePoint to manage: information through a client-matter-based-interface for attorneys; product management; marketing. It has been difficult to get different departments to share their sites' information or allow links to the main page to share pertinent information for various projects.
It only works if others participate and getting to that level of participation has been a challenge. Anyone who decides to implement one, must consider if they have the commitment of those involved and if not how to get it. We have found that any uses that the library could implement would have to have a large support from the IT department. Permissions would need to be obtained from the IT department in order to use SharePoint Designer for tweaking certain default functions out of the box. It is not a difficult application to use but it is not as intuitive as advertised. Silos of information are growing from all the projects with duplicated information that could save server space if placed in one location. Currently, the server space is at capacity until a better way of relating information between departments can be found.
CREATING THE LIBRARY SITE
Some of the librarians have managed to create mini-sites from our main library page. Since the site is not fully developed, the library has had the IT department to manage the main page through requests from the library director.
Works Cited
Weldon, Lorette S.J. "How is SharePoint used in Libraries?" FUMSI, a FreePint Family Publication, at http://web.fumsi.com/go/article/use/4714 in August 2010.
Weldon, Lorette S.J. (2010) SharePoint without Coding, Volume 1, Amazon.com (SharePoint without Coding: My Notes for Embedding the Librarian).
Weldon, Lorette S.J. (2011). SharePoint without Coding, Volume 2, Amazon.com (SharePoint Without Coding, Volume 2: My Notes on the Further Embedment of the Librarian).