Motorola MOTOPURE H12
I've always been fascinated with Bluetooth – the short-range wireless technology that allows gadgets to magically communicate with each other.
By far, the most popular use of Bluetooth today connects tiny headsets to cell phones. This negates the need to hold a cell phone up to your ear, and gives your head full range of movement – which is extremely important when you're driving.
I've used a handful of different Bluetooth headsets, but I can't say that I'm a complete fan of any one of them. I'm not complaining, I just don't believe we've seen the complete evolution of the technology quite yet. Probably the most obvious and consistent point of failure is the wireless aspect – there will always be something that causes interference in the wireless spectrum.
The Bluetooth standard continues to evolve, however, and there are a lot of companies that are striving to push the technology to the next level.
One company that is routinely on the forefront of the Bluetooth revolution is Motorola, as evident from products such as the RAZRWIRE Bluetooth Eyewear and the MOTOROKR S9 stereo Bluetooth headphones.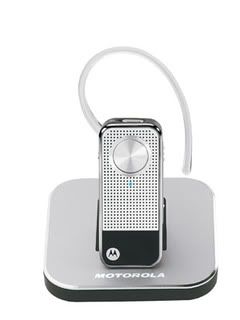 That's why I was excited to test out the new MOTOPURE H12 Bluetooth Headset. I had read good things about the headset and was anxious to compare it to my other headsets.
First, the things I really like about the MOTOPURE H12…
It's much smaller than I thought it would be, which is great. The earbud is sturdy and fits perfectly in my ear. And I even liked having the flimsy plastic flippy thing over my ear – it helped keep the headset in perfect position. I truly forgot that the headset was in my ear and I was able to wear it for quite a while without any discomfort.
I was thrilled to see that the MOTOPURE H12 had a physical on-off switch. So many Bluetooth headsets that I use require you to hold down the power button for 3-5 seconds before it turns off or on (for some reason, that seems like an eternity when I'm holding the button). But on the MOTOPURE H12, I simply and quickly click the headset off when I don't want to use it, and that saves a lot of battery power.
The volume buttons worked great. When I wear the MOTOPURE H12 on my right ear, the volume buttons are on top. They're easy to click and adjust the volume whenever necessary.
Pairing the MOTOPURE H12 with my phones was tremendously easy – as soon as I turned the headset on, it found my phone and was ready to go. I've never experienced an easier pairing operation with a Bluetooth headset.
Unfortunately, what I didn't like so much was the sound quality. The sound on my end was great, probably due to the CrystalTalk technology that Motorola has perfected in their RAZR phones. But a couple of callers complained that I didn't sound that great on their end, and I kept stepping on callers with both of us talking at the same time.
I'm not saying that this is deal-breaker, because as I already mentioned, every Bluetooth headset that I've tested has some flaws. The MOTOPURE H12 is one very, very nice looking headset, and I really like its demure profile. The on-off switch alone is almost worth the price – why can't other Bluetooth headsets have this feature?
The Motorola MOTOPURE H12 runs around $120. If you really feel the need to splurge, you can get a special edition, diamond-encrusted MOTOPURE H12 for around $17,000.
Sennheiser RS 120
I enjoy listening to music while I work at the computer but sometimes I get a little carried away with the volume control, and that doesn't sit well with the folks around me.
I decided it was time to get a new pair of headphones. Putting on a pair of over-the-ear headphones is like putting a pair of blinders on my eyes – it helps me focus on what's in front of me, and I don't get distracted by sounds outside or out in the hall.
But I didn't want just any set of headphones; I wanted to try a wireless set this time. I've always hesitated to go for wireless headphones because of fears that my other gadgets would interfere with the audio. I figured it was time for another look, however, thinking that the technology might have improved enough to make a difference.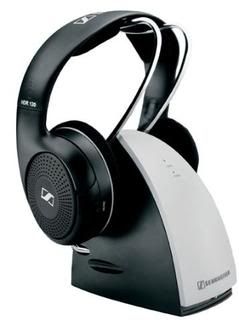 So I did what any self-respecting techie would do these days, and checked out the highest rated wireless headphones on Amazon.com.
After swimming through some of the miscellaneous products, I came upon the Sennheiser RS120 wireless headphones with 380 reviews that averaged out to a solid, 4-star review.

I was very familiar with the name Sennheiser from a life long ago when I was a radio DJ. And so I knew the quality had to be good. And judging by several of the reviews I read, this was not going to disappoint.

After several weeks of using the Sennheiser RS120 wireless headphones, I'm delighted to recommend them, although I do occasionally have to adjust the signal to skirt around some nagging interference.

Two rechargeable AAA batteries fit inside the left ear cup of the headphones and are ingeniously recharged via the metal rods that double as a holding rack. I've only run out of power once during a marathon blog-reading session, but overall, I've been very happy with the battery listen time.

The on-off switch on the left ear cup is handy and also helps to conserve power. On the right cup, you'll find both the volume knob as well as the tuning knob. Whenever I experience some static interference, I simply adjust the tuning knob slightly until the music is clear again. My only complaint is that the two knobs are so close together that I sometimes mistake one for the other.

The headphones were a little bulkier than I was expecting. I thought this would make them heavy and uncomfortable, but I've been pleasantly surprised at how comfortable they feel, even after wearing them for an hour or so. I do get headphone-hair, but they feel great on my head and over my ears.

The best thing of course, is that I don't have to worry about getting a wire tangled around my mouse or desk – the wireless headphones let me move my head freely and even get up for a stretch without interrupting the music.

If you are interested in creating your own little musical world while you work, I would highly recommend the Sennheiser RS120 headphones. Higher-numbered models offer a few extra bells and whistles (such as surround sound), but I felt like the RS120 model suited me just fine. You can find it for around $70 on Amazon.com.

Posted in: