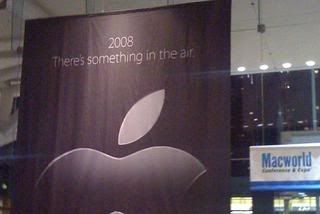 For people who follow tech conferences, January means the Consumer Electronics Show in Las Vegas, and the MacWorld Conference and Expo in San Francisco. As I live and work in the Bay area, I decided to attend MacWorld this year.
The most exciting things to come out of MacWorld each year are the announcement of new and updated products in the keynote address by Steve Jobs. This year's conference was entitled "There's something in the Air" and I'll get to that announcement in a moment, but first there were a few other announcements made this year that are worth mentioning.
iPhone and iTunes Updates
Within an hour of the keynote being over, Apple's latest updates to the iPhone and to the iTunes software itself were released, and I quickly upgraded my iPhone to see how they stacked up. Two of the announced new features are a very welcome addition:
The My Location feature in Google Maps (previously released on blackberry and java cellphones) almost makes up for the lack of a GPS in the phone, as it can now show you where you are on the map within a few blocks.
It is definitely an improvement to be able to add quick bookmarks to web pages straight to the iPhone home screen, and reorganizing the icons on the screen makes it easy to keep the programs I use most easily accessible.
Interestingly enough, there's one new feature that Jobs did not announce in his keynote address, and that is with the new iTunes and iPhones updates, it is now finally possible to manually control the songs and videos on the iPhone. Previously the only way to get songs and videos into the iPhone was to create playlists and sync the playlists that you wanted to be on the phone. This change is a very welcome addition.
Another reason for the iTunes software update was to facilitate the new rental feature in the iTunes movie store. There are a large number of titles now available to rent instead of buy for people who are only grabbing the movie to watch once. This is a welcome addition, but I find the price of $3.99 a pop ($4.99 for High Definition) to be a bit steep compared to using a DVD Rental service like Netflix or Blockbuster Online.
Apple TV Upgrades
To make renting and buying movies even easier, Apple has now updated the Apple TV software to allow people to buy or rent movies straight from the Apple TV, instead of having to use their computer and then sync it to the Apple TV to do the same thing. Again, a welcome addition to anyone who has an Apple TV, unfortunately I do not, so I have very little to base a review on for this product, but it is good to see Apple continuing the trend of making it easier to get content. Another welcome addition to this change is the ability to subscribe to Video and Audio podcasts straight from the Apple TV, bringing the new medium of podcasting to the Television medium.
Time Capsule
Jobs also announced that the AirPort Extreme wireless router now comes in modules with Hard Drives built in, with either 500 Gigabytes or 1 Terabyte built right in, using these new routers are an easy way to have shared hard drive storage in your home or small office.
There's something in the Air
Of course the big news from MacWorld is the new MacBook Air, the world's slimmest Laptop weighs in at just 3 pounds and is under 1 inch thick at it's thickest point (0.76 inches to be precise) and a mere 0.16 inches at it's thinnest point, this is the most portable laptops that have a full sized screen and keyboard that I've ever seen.
In the PC world the trend over the last few worlds has been towards the building of UMPCs to increase mobility, but until recently these ultra small computers have been actually too small to be really usable. Amazingly in my little bit of testing, the system ran quick and responsive, and the screen was crystal clear and beautiful.
When watching the keynote, Steve Jobs made a big deal about adding multi-touch technology (like that in the iPhone) to the track pad of the Air, and at first it seemed to me to be pointless, but then when I realized that the whole point of the Air is not to have a computer that sits on your desk and you occasionally take with you, but instead be the computer you take with you while you keep your desktop or larger Laptop at home, I gave it a second thought. While testing out the unit at MacWorld, I found the multi-touch controls so easy to use that I realized that it was the easiest to use user interface tool I've ever used without a Mouse. Track pads are generally much harder to use then a mouse, but these new gestures make it much easier to work without a mouse in various applications.
Of course there are a few drawbacks to the Air. Much like the problem with last year's iPhone, the MacBook Air does not have a removable battery. Not only can you not replace the battery when it stops holding a full charge, but you can't buy and keep a spare battery for swapping when your main battery gets low. Apple claims the Air's battery will last 5 hours on a full charge with WiFi running, which is impressive, but even with 5 hours, if you cannot bring a spare battery your ability to work away from power for long is limited.
Also in their effort to keep the Air as thin as possible they connected the memory directly to the board, meaning that you cannot ever upgrade the memory of the machine, or replace the memory if it goes bad.
The Air does let you connect to an external monitor using a new port called Micro-DVI. So far the Air is the only computer on the market that has this port. While the Air does ship with two adaptors for this port (for DVI or VGA monitors), and you can also get two other adaptors (composite video or S-video) for connecting to televisions, it is impossible to connect to any device without one of these adaptors, as no monitor or television supports the Micro-DVI port directly. Also the DVI single link, not dual link like the port on the MacBook Pro, which means that it can only support a maximum resolution of 1920 by 1200 pixels, high enough for a 23″ monitor, but not an Apple Cinema HD 30″ monitor.
Many people have criticized Apple's decision to not have an optical drive built into the system, but to me this decision makes sense. DVD drives use up battery and adds considerable width and weight to a system for something that people only use rarely. By taking this bulky device out of the laptop and shipping it separately, the road warrior can get the best of both worlds, super portable, but still usable.
The MacBook Air comes with two options for hard drives. Standard is an 80 Gigabyte Hard Drive, but for an additional fee, you can upgrade to a 64 GB Solid State Disk. SSD has the advantages of having no moving parts, using less power (most likely in order to get the 5 hours of battery life Apple claims, you will have to choose this option), and being much faster then standard Hard Drives (partially because of the lack of moving parts). Unfortunately SSD is much more expensive then normal hard drives, and for this 20% smaller drive, you will have to shell out $999 more in the cost of your laptop. Still the longer battery life and speed increase may make this upgrade an attractive option for some people.
Conclusion
I had a great time at the MacWorld Conference and Expo, and saw a great number of impressive things at booths in the Expo that I don't have time to cover here, and the new and updated releases by Apple were as always a welcome set of announcements. While the MacBook Air is an impressive unit, and sure to be the road warrior's dream machine, it lacks the power of last year's announcement of the iPhone.
This is a bit unfair, after all, no company can come out with game changing innovations every single year, but still even knowing this I find myself wishing for more.
Perhaps that more I'm looking for is awaiting me January 5th through the 9th, 2009 at next year's MacWorld Conference and Expo 2009.
Note: The photos in this article were taken with an iPhone, and as such are a little distorted.

Posted in: