Acknowledgements:
I would like to express my gratitude to Bonnie Shucha, Head of Reference at the University of Wisconsin Law Library. Bonnie not only encouraged me to begin my blog, she has been supportive, and allowed me to use some of her posts in this presentation1. I would also like to thank Tony Anderson and the Wisconsin Law Journal for including me as one of their legal bloggers. Special thanks to Sabrina Pacifici of beSpacific2 for permitting me to include some of her posts as well.
---
Once upon a time, in the great city of Milwaukee, lived a brilliant legal professional named Bella. Bella was part of the litigation practice group at Big, Bold & Smith, s.c. Every Monday the group met to discuss current issues. One Monday, a colleague named Greg informed everyone of a recent decision that could affect the outcome of a large case the firm was handling. After the meeting, Bella asked, "How did you hear about that case?" Greg answered, "I saw it on a blog I monitor."
Bella was curious. "I keep hearing about blogs, but aren't they just pages where friends share stuff happening in their lives?" Greg responded, "No, I mean professional and news blogs!"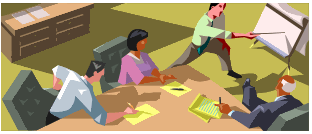 Greg told Bella about an article he had read a few years back about the benefits of reading legal blogs written by Bev Butula. He told Bella she could find it in the Wisconsin Lawyer3.
After reading the article, Bella was intrigued! She knew she wanted to learn more. So, Bella paid a visit to the firm librarian, Marian. Marian provided her with some great information.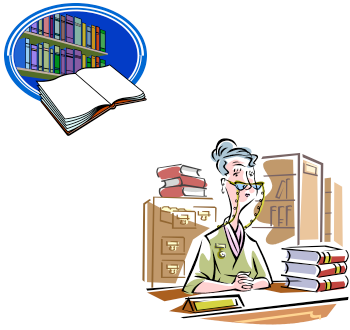 What's a blog?
Short for Web Log – B"law"g
Website of journal type entries
Reverse chronological order
Offer commentary
Adds text, graphics and links
Personal or professional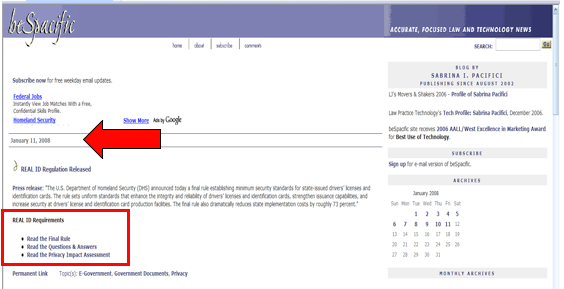 Cool! Bella realized individuals with similar interests have developed blogs to monitor legal issues, events and case law. And as an added bonus, often these posts include direct links!!
This is awesome.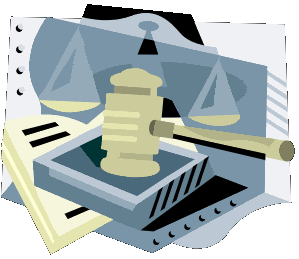 Why read a blog?
Professional Blogs as Current Awareness Tool
PROFESSIONAL blogs are a great current awareness tool
Check for authority
Updated "regularly"
Subject specific blogs to enhance or sometimes replace other professional materials.
Supporting documents often immediately accessible
Hot topics/annual reviews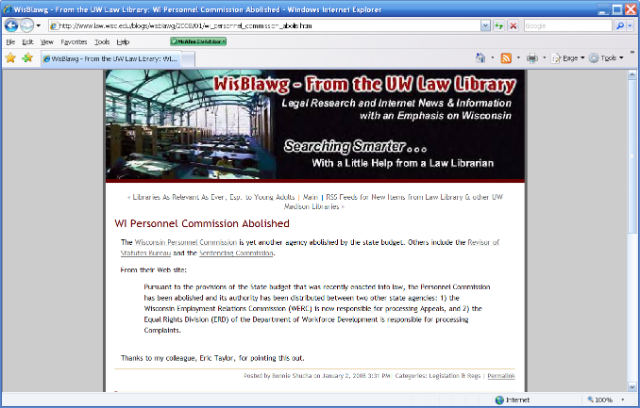 Relevant & current information
Underline = links to documents
Clearly identifies the subject matter of the blog
Read the "about me" section for authority
Bella hadn't heard this news. Boy, this is really helpful!! Bella also knew the importance of authority when referencing online resources. Checking out the appropriate section from WisBlawg, Bella realizes that this is a reliable source.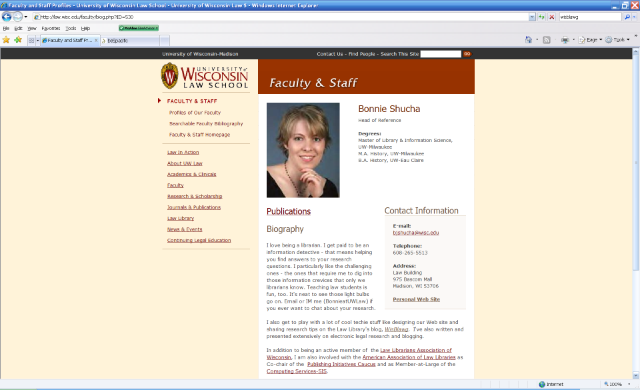 How great is this! Marian informed Bella that the legal world is full of great blogs that offer breaking news AND professional development tips. A new kid on the block is Wisconsin Law Journal's "Research and Resources" by Bev Butula.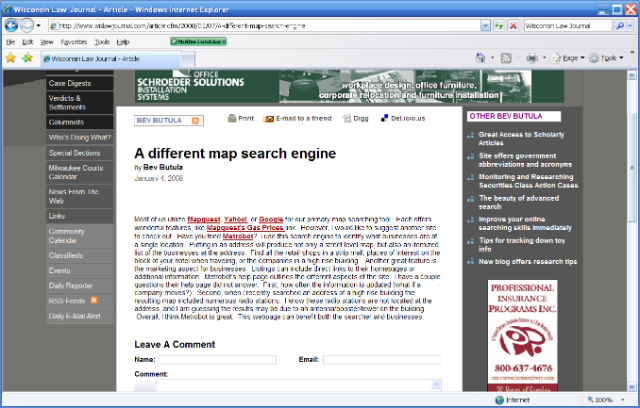 List of other posts — often found in an "Archive"
Comments feature available on many blogs
Now that Bella understood the value and potential of professional blogs, she wanted to know where to find blogs. Marian told her of several ways.
Blog Rolls – blogs are being read by your favorite bloggers
Bella could not believe all the information she was missing. Blogs are a spectacular way to remain current in the field. Monitoring legal and news blogs will not just benefit her… no, just like Greg did in the meeting on Monday, she can share this information and add value to her position.
Now the question was HOW does Bella monitor them all? Going from site to site would take hours!!! "Fear not," says Marian, there are a couple of options.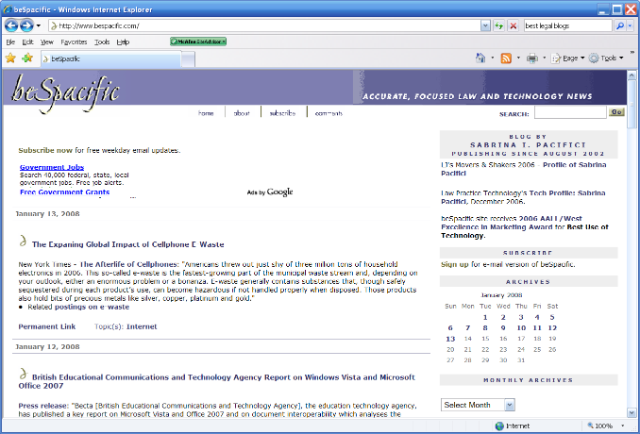 Option 1. Email Alerts – some blogs offer an email subscription service.
Option 2 is probably Bella's best choice. Marian explains that second option. It is utilizing RSS feeds and readers! Marian provides Bella with some great articles explaining RSS4, but in simplest terms, RSS is a way to gather blog content.

HOW TO MONITOR BLOGS?
Internet Browser (for example – IE7)

RSS radio button on browser
Choose radio button from website
Subscribe to feed
Read updates from "Feeds" list (Favorites center in IE7)

RSS Reader

Several options for readers
Google Reader, Kinja (ads can be a bit different, but nice reader), Bloglines to name just a few (Google has a nice tour of how to use product)
Free
Easy to set up
Thought: Set as default page when opening browser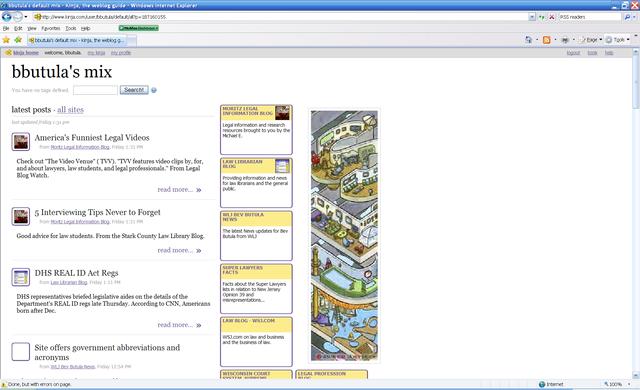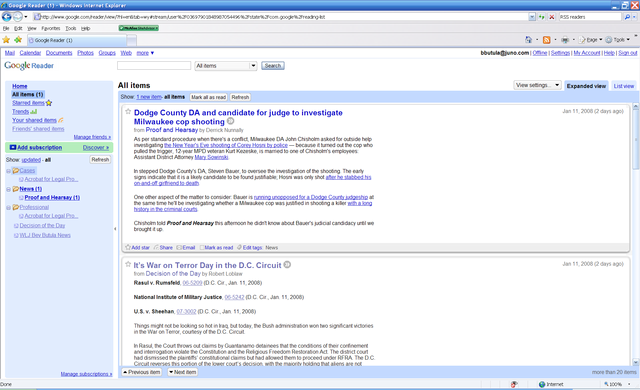 Bella blissfully returns to her office with the great information Marian supplied. Boy, those librarians are a great bunch!! Bella cannot wait to locate professional blogs and news sources. Then she will add them to her reader. She will have to take Greg out to lunch to thank him for telling her about legal Blogs.
And she lived happily ever after.

Thanks for attending!!!!
Some of Bev's Favorite Blogs and Feeds
Wisconsin
Legislative Reference Bureau (choose the subject)
CCAP (keep track of cases filed in circuit court)
Legal Technology and Research
Case and practice
Footnotes
1 – WisBlawg – http://law.wisc.edu/blogs/wisblawg/

2 – Sabrina holds the trademark and copyright to beSpacific. beSpacific can be found at http://www.bespacific.com/

3 – Butula, Bev. Blogs – Another Online Source, Wisconsin Lawyer, v. 77 no. 5 (May 2004) http://www.wisbar.org/AM/Template.cfm?Section=Search_Archive1&template=/cm/htmldisplay.cfm&contentid=47626

4 – Some articles and sites to check out include:

5 – RSS image – photo by photopia. http://www.flickr.com/photos/photopia/455572466/

Posted in: